Reaching teenagers and young adults can be difficult in a noisy market — brands are competing constantly for a reputation as the next, must-have app, product or service.
This challenge is even further exacerbated for brands seeking to educate and motivate young adults on a topic traditionally introduced by parents or health educators: reproductive health.
When Family First Health was awarded a grant for a health care marketing campaign intended to increase awareness of the community health center's family planning services, they came to Gavin straight away. But they were also cognizant of the challenges in marketing "family planning services." With a target audience of men and women 15 to 25 years old, their approach had to be broad enough to connect with both sexes and a range of ages and experiences — many of whom would have very diverse definitions of family planning services.
Clarifying Goals
The Gavin team began by clarifying campaign goals: To increase both awareness among target audiences for the family planning services Family First Health offers, and inquiries and appointments for family planning services by current and new patients.
Taking a different approach while staying true to the brand as a friendly, welcoming provider, our team brainstormed a campaign concept focused on education and action. Targeted social media tactics would position Family First Health as a safe, nonjudgmental place to obtain trustworthy information, with the call to action focused on planning that is right for each individual, from STI testing to contraceptives to health screenings.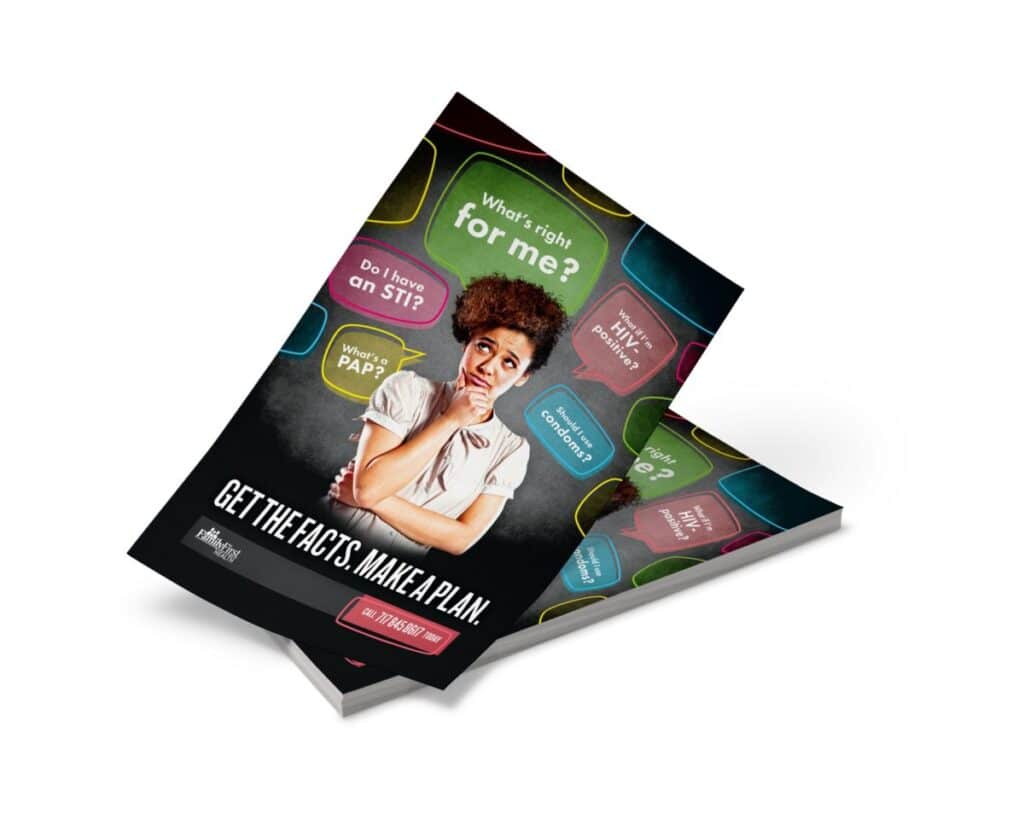 Visual Approach
From the tagline — Get the facts. Make a plan. — the creative team worked together to develop an aesthetic for the campaign. In understanding the behavior of our target audiences, we knew visuals would have to work doubly hard. After all, would you as a teenager want to seek advice on contraceptives from the same brand your mom trusts?
Our challenge was to stay within the constraints of Family First Health's engaging, approachable brand, while visually differentiating this health care marketing campaign to appeal to teens and young adults. Our approach was twofold: Engage with bright, bold visuals, and connect emotionally by voicing some of the questions our target audiences were likely to have.
Picture this: A late-teens, early-20s female looking somewhat confused is surrounded by a series of thought bubbles: Should I use condoms? Do I have an STI? Should I be tested for HIV? What's a PAP exam? The most prominent bubble has an overarching question, "What's right for me?"
Reproductive health is confusing — and often brand new to teens and even young adults. Information from friends can be conflicting, and asking a doctor can feel embarrassing.
So our call-to-action is the campaign message — "Get the facts. Make a plan." High-impact, high-contrast color and design engage audiences right away in a noisy timeline, with bright colors and a bold approach to connect with younger audiences, then drive them to action with a call to schedule an appointment today and the appropriate phone number.
Reaching Target Audiences
Implemented through social media sharable images and the campaign poster, a dual approach was developed to reach individuals on platforms where they already engage, as well as patients already coming in to the physical Family First Health locations for different services or needs.
We relied on several key statistics around our target audiences and their known behaviors:
88 percent of online adults ages 18-29 use Facebook, while 59 percent of adults 18-29 years old use Instagram. (Pew Research Center, 2016)

Compare this to Twitter, which sees just 36 percent of online adults ages 18-29

Facebook continues to have the most engaged users — 76% log on daily, including 55% who do so several times a day. 51% of Instagram users are on the platform daily, including 35% who visit several times a day. (Pew Research Center, 2016)

Compare this to Linkedin, where only 18% of its users visit the professional network daily
Based on where Family First Health was already active, Facebook and Instagram made the most sense for greatest reach and engagement with our audiences.
Seeing the Results
The results spoke for themselves. During the two-month campaign period, we applied an advertising budget of $1,000 to a series of three advertisements: Two geared toward Post Engagement through Instagram and Facebook, and one toward Facebook's Local Awareness option that allows a mobile user within a certain-mile radius to one-click and call Family First Health directly to schedule an appointment.
Campaign content reached 97,146 total people across Facebook and Instagram, with more than 2,474 Reactions, Likes, Shares and Comments. Engagement included 16 direct clicks through the Local Awareness advertisement from individuals seeking an appointment for Family Planning Services.
During the campaign timeframe, Family First Health also reported an 37% increase in inquiries and appointments for family planning services across its six locations, as compared to the prior two-month period.
Progressive health education allowed Family First Health to meet their patients where they are — and on their level. Health topics can be fresh and engaging, even with younger audiences — so long as you pay close attention to strategy that connects your messaging with patients' needs.
Want to read more about our expertise in health care marketing? Check out our other work.